Our story

Cosmos Sport is now the Νο 1 Greek Company of athletic sportswear. It was established in 1982 by Mr. Fragiskos Tsiknakis. A trip to Barcelona was his inspiration that led to the creation of Cosmos Sport. Since 1995 the company's management has been continued by his three sons, Michalis, Lefteris and Kostas Tsiknakis.
The first ever Cosmos store opened its doors in Hersonissos in Heraklion, Crete. Today, the number of stores has grown up to 43 with four different brands (Cosmos Sport, Sneaker10, SportsFactory Outlet, and the NEW basketball-exclusive store Slam Dunk) as well as their own online shops (www.cosmossport.gr, www.sportsfactory.gr, www.sneaker10.gr, www.slamdunk.gr.
Today we employ more than 600 people.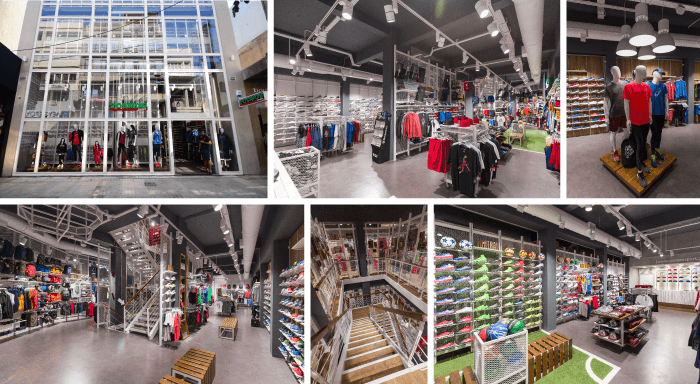 People and Infrastructure
Our HQ's are based in Heraklion, Crete, where all the central services are housed in modern facilities, while in 2018 our family grew, and the offices were extended to Athens. Our priority are the people and that's why we have the "People Benefits" program which helps them improve themselves daily and keeps them more inspired than ever. In both our HQs there is a specially designed room which is highly equipped and is used as a gym, while we also constantly invest in targeted skill development training programs.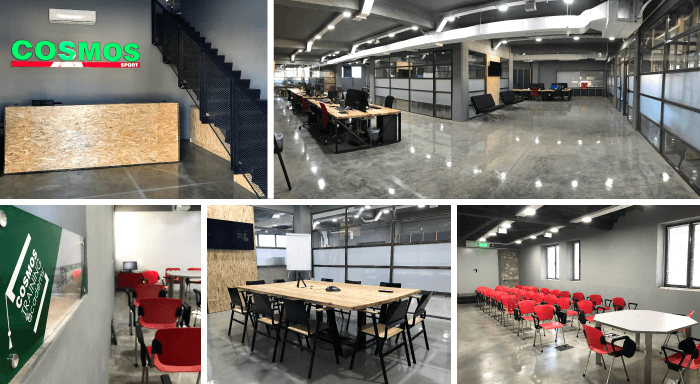 Our Vision & Values

Our vision is to be the best sports & athletics shopping experience in every point of contact with our customer. Our motivation comes from the excitement of our customers, so as a result our innovational actions and our passion to improve our selves makes us a special team. The company was distinguished for two years in a row as "Growth Driver" of the Greek economy due to its excellent financial performance, while our online shop www.cosmossport.gr has been awarded for 6 continuous years by the e-volution Awards, an institution where the best participants in the Greek e-business are awarded, for being the best e-shop in Greece. In 2018 Cosmos Sport won 6 awards, including two Platinum Awards in Customer Experience & Omnichannel Marketing by the same institution.



Our Company and the Society

Our motto is "Together We Make Cosmos a Better Place", because that is truly what we are trying to achieve. We are constantly close to the growing societal and environmental needs. Our company organizes and supports several events that bring people closer to sports (Heraklion Cosmos Run, Beach Basketball, 3on3 Basketball tournaments, participation in workshops, etc.). Many of our actions and events have as final recipients social organizations such as "EY ZO with Cancer ", the SOS Children's Villages, the Yellow Mission and others.
Every year we recycle on average:
36000 kg

of paper

1200 kg

of electrical appliances

120 kg

of batteries. Meanwhile we replaced LED lamps, inverter air condition and paper bags, to show our love and how much we care about the environment, to the world.

Learn more here!
Innovative Online Services
Cosmos Sport eGIFT Card
Stuck for what to get? Give the eGIFT card from Cosmos Sport. This can be spent in-store or online at cosmossport.gr
Send it instantly, by email or sms and let the recipient choose between 15,000 products!
Online Style Expert is a consumer-friendly service that provides to consumers Online assistance 09:00-24:00! It can assist with Size Fitting, reveal Secret Offer as well as information about latest & gratest Releases!

Τοgether We Make Cosmos a Better Place