Our story
Cosmos Sport SA, member of JD Sports Fashion Plc, was founded in September of 1982. The first store opened in Heraklion, Crete and since then the network has expanded even further with 64 physical stores in Greece & Cyprus, 4 retail brands (Cosmos Sport, Sneaker10, Sports Factory, Slamdunk) 6 online shops and thousands of happy customers in Greece and Cyprus. Cosmos Sport is a constantly growing omnichannel company with a strong passion for sportswear, street style and limited items.

Our team consists of 800+ highly skilled, self-motivated young people, who love sports and have a passion for innovation! We are proud that Cosmossport.gr is now the No1 online store in the industry also selling abroad, having been awarded for 7 consecutive years as the best online sports shop in the country in e-volution Awards. We are excited being a preferred partner for global brands like Nike, adidas, Reebok in the SEE.
LET'S MOVE, TRAIN & EXPRESS OUR SELVES.
Cosmos Sport SA is the No1 Greek retail chain of sporting goods. The company started its operations in 1982, and since then our network has expanded rapidly. Today we operate 64 physical stores, 4 retail brands Cosmos Sport in Greece & Cyprus, Sneaker10 in Greece & Cyprus, Slam Dunk, SPORTSFACTORY, and their online stores (www.cosmossport.gr, www.sportsfactory.gr, www.sneaker10.gr, www.slamdunk.gr) while we are expanding our footprint to cover our customers' needs.
Our team consists of 800+ young talented people who love Sports, Athleisure and have a passion to make an impact on our customers' lives and society. Our Vision is to offer an exceptional Omnichannel Experience to our "guests". Our Company Mission is expressed through the statement "Together We Make Cosmos a Better Place", demonstrating our passion for continuous self-improvement and the impact we make to society.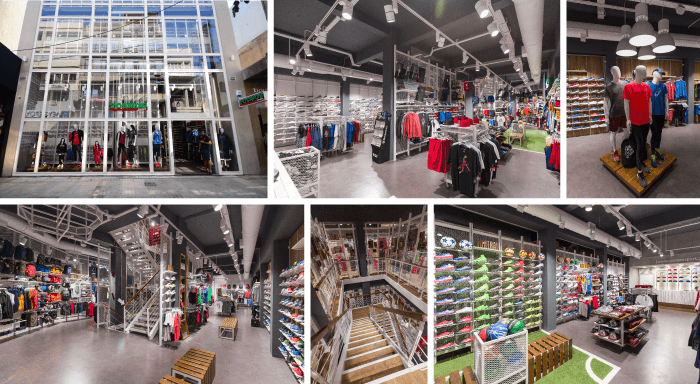 People and Infrastructure
Our HQ's are based in Heraklion, Crete, and Athens, built according to modern standards and design. In terms of employee welfare, Cosmos Sport has focused heavily on developing a strong culture and an inclusive workforce that helps maximize its efficiency and impact. Cosmos Sport's priority is human being & people engagement, so we often organize awesome wellbeing, teamwork, and athleisure activities. In our HQs, you can find a fitness room, ping pong tables and a roof basketball court, totally designed for our employees!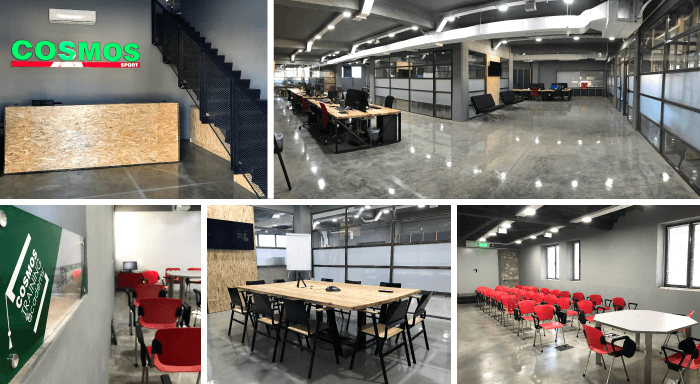 Our Vision & Values

We are motivated by the customer's enthusiasm, innovative action, and passion to make the difference as a team. The company was distinguished for two years as "Growth Driver" of the Greek E-economy due to the excellent financial performance, while our online shop "www.cosmossport.gr" was awarded the e-volution Awards for 7 continuous years. In 2018 Cosmos Sport won 6 awards, including 2 Platinum Awards in Customer Experience & Omnichannel Marketing.


Our Company and the Society

Cosmos Sport has demonstrated its commitment to the society and environment by investing in important socially responsible efforts. In this way, our company is strongly committed to help improving the quality of life for people in communities. At Cosmos Sport we believe that undertaking CSR initiatives is a win for everyone involved. The impact of our actions will not only appeal to socially conscious consumers and employees but can also make a real difference in the world!
"Together we make Cosmos a better place", is our Mission!
Every year we recycle on average:
36000 kg

of paper

1200 kg

of electrical appliances

120 kg

of batteries. Meanwhile we replaced LED lamps, inverter air condition and paper bags, to show our love and how much we care about the environment, to the world.

Learn more here!
Innovative Online Services
Cosmos Sport eGIFT Card
Stuck for what to get? Give the eGIFT card from Cosmos Sport. This can be spent in-store or online at cosmossport.gr
Send it instantly, by email or sms and let the recipient choose between 15,000 products!
Online Style Expert is a consumer-friendly service that provides to consumers Online assistance 09:00-24:00! It can assist with Size Fitting, reveal Secret Offer as well as information about latest & gratest Releases!

Τοgether We Make Cosmos a Better Place